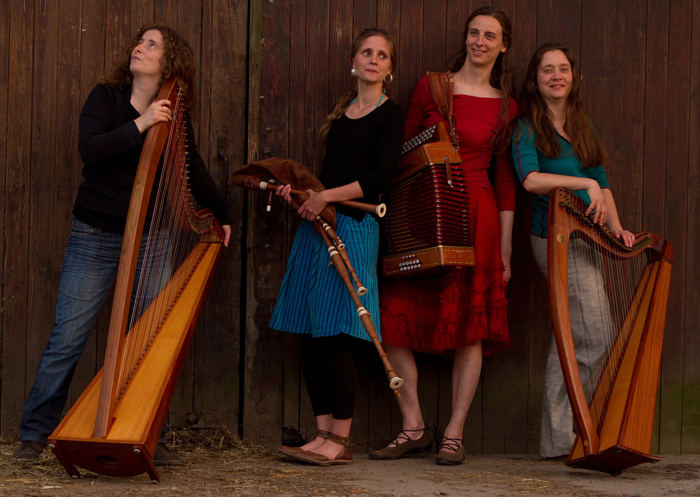 Hoëla Barbedette : harp, vocals
Marinette Bonnert : accordeon
Birgit Bornauw : flemish bagpipe, fiddle
Juliette Collache : harp, vocals
Bon Matin is a French – Belgian band bringing together : button accordion player Marinette Bonnert (Wallonia), harpist and singer Juliette Collache (Flanders/Poitou), doedelzak (flemish bagpipe) and fiddle player Birgit Bornaw (Flanders), harpist and singer Hoëla Barbedette (Britanny).
Bon matin performs for concerts and ball-dances. Its members also run dance workshops or instrument courses on the repertoires from the four regions… according to organiser's request.
Bon Matin Played there :
Trek'n Folk Festival (Halluin, France), Festival Musiques et traditions (Marsines, Belgium), 'T Ey (St Niklaas, Belgium), Festival De Bouche à Oreille (Parthenay, France), Les Folkeurs (Pommerit-le-Vicomte, France), Akkordeon Festival (Vienne, Austria), Festival Damada (Coulan-sur-Gée, France), Festival Musique et Conte (Liniers, France), Amzer Nevez (Ploemeur, France), Les Anges (Quelven, France)…
Visit our facebook
Listen