Hoëla Barbedette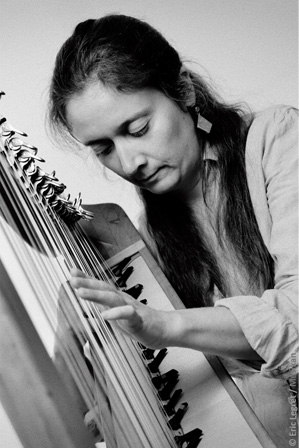 Hoëla Barbedette grew up in the centre of Brittany (France). At the age of seven she started learning the celtic harp with Anne Auffret. Bathing in a Breton musical and cultural environment, attending a lot of week-long courses with many harpists while also learning other Breton folk wind instruments, and finally starting to play on stage for concerts or festoù-noz (dance evenings), she gradually developed her own playing style on the harp, tonic and creative.
Among numerous and varied musical experiences, Hoëla recorded two albums in duo with the double-bass player Delphine Quenderff, one with the sixteen-musicians Breton band Norkst (the Kreiz Breizh Akademi project), where she uses a Starfish harp with quartertones levers, and one with Bon Matin (a meeting of two harp players from France and a Flemish bagpipe player and an accordion player from Belgium).
Her two solo productions, the albums Cerisier and Roc'h an Burtul, offer the richness and variety of her playing and inspiration, as well as her work on modals scales, sound research, composition and improvisation. Hoëla is also keen of playing with singers,  as shows it her duo around breton modal songs with the singer Eric Menneteau (Their album, Amzer da goll – « Time to waste » – was released in July 2019) and her duo with the Turkish singer Canan Domurcakli.
Graduated as a state teacher of Breton Folk Music on the celtic harp, and working in a music school in Brittany, she loves sharing her passion during regular as well as occasional courses, giving workshops all around Europ. Since 2022 she teaches also to the students in folk music at the pôle Aliénor in Poitiers.
Visit my facebook page
Listen to me on Soundcloud
Visit my youtube page